About Our Family
Our Philosophy
Think Buddha on a pirate ship–well, at least that's how Stone, my partner, refers to our adventure of life learning along side our three young children in a 750 square foot home.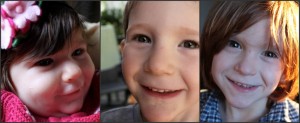 I try to imagine living in the eye of the storm. There is a lot of crazy stuff going on around lately. Global warming, peak oil, learning everyday that something we shouldn't be eating is sold regularly on supermarket shelves, a health care system crisis and an educational system that is in no way set up to prepare our kids for a world that's changing so fast it's almost impossible to keep up. There's more, but I'll stop because I know you know.
While all that spins around me I'm doing my best to live in the eye of the storm. I'm constantly reminding myself that the eye does exist and even in the most chaotic of spaces I can find that safe space of relief.
My family is also a storm. It's loud (I mean really loud) and at any given moment something dangerous might fly through the air. Moods are unpredictable and wills can be fierce and inflexible. Right now it's my job to parent from the eye of the storm. If I get swept up in the drama we all go down.
I do my best to blog from the eye rather than the chaos (most of the time). Or rather, I blog with the intention to be the Buddha on that pirate ship. It's part of my spiritual practice to find my center, keep a healthy perspective and mindfully parent.
Our Methods of Sustenance
We take life pretty seriously, as in "since we only have this one precious life together and who knows what tomorrow may bring let's make sure we're taking it all in". One of our overarching goals is to sustain our family by indulging in our deepest life passions.
We are in year two of Stone's start-up stone artisan business and I'm in the midst of growing my birth based business. Stone's business slows down considerably for 4-5 months a year. Our goal is to switch off being the main caregiver/home manager and breadwinner.
Our Home
Four years ago a series of unfortunate events caused us to make the best decision of our lives. We looked around and realized we were settling for a life we weren't enthusiastic about living and we knew we had to make changes.
We made lists of everything we wanted in a town and then took out a map and circled anywhere that fit the bill that was within a days drive from our families. Six months later we bought the sweetest little duplex in the downtown of a very hip little town. The house had been a rental unit for years and we have spent the last three years learning how to be diy-ers. We rent the income apartment to help with the mortgage and we live in a very tiny, but super sweet space upstairs.


We can walk to farmers market, downtown, a waterfall, the neighborhood cafe, and there's even a neighborhood playground. It's the best!
Our Bios
This is my baby bump and me. This is Thanksgiving '09 and I'm about 11 weeks pregnant here. I am an advocate for baby-safe, mother-friendly birth practices on the local, state and national level. I am co-founder and webmaster of Free Our Midwives and co-moderator of the #BirthGenius twitter chat.
My passion is using new communication tools to get good birth information to the 2.0 mom. I also run a local birth business that rents out birth tubs, offers birth photography and doula services.
Our first born Solshine is strong and spunky. He's a linguistic master who has a knack for charm and also continuously fine tunes our parental skills–asking us to grow and learn along with him. He is one of our greatest teachers. He's been keeping himself busy these days with legos and his work table, but every so often I remember times when he was just a baby and was our one and only. Time flies.
Koala is my sweet and sensitive boy. The new baby has been a challenging transition for him and we're doing our best to provide him with the security he needs to navigate his new role of big brother. He's super busy and keeps me on my toes. Recently I realized that he is our little canary in the coal mine. When our family vibe is off or stress levels are causing an imbalance he reflects it–deeply. When we keep a rhythmic, happy home he thrives.
Ms. Ninu joined our family this past June after a rolicking political ride. Two weeks before I found out I was pregnant I learned that midwifery would be illegal in my community starting around her due date. I spent her pregnancy co-organizing a consumer movement, Free Our Midwives, and just hours after the House passed the bill I went into labor. Two days after she was born the New York State Senate passed the bill unanimously and the rest is herstory. She's my little rabble-rouser and she's cute too!
Stone is my rock. He's wildly funny and has endless amounts of energy, which is important considering he provides for the family, is an awesome house cleaner and loves roughhousing and adventuring with the boys. He's a stone mason, student of the uke, diy enthusiast and small business owner.
Join us. Subscribe by email and stay in touch.