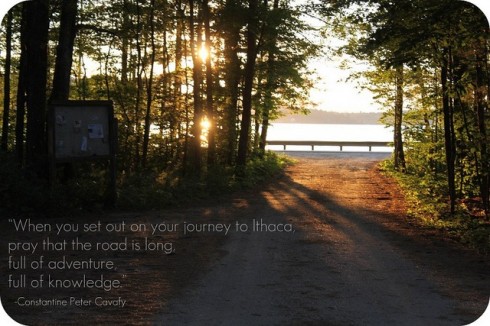 Three and half year ago when Sol was a chubby three year old, Koala was just a few months old and Nila Bindu was but a star in the heavens, we traveled to Ithaca with big dreams and a sparkle in our eyes.
We knew we wanted to live in a vibrant community that valued music, fresh food, environmental integrity and sustainability and we took action to get it. We drove through the night in our beloved veggie-powered Volkswagon Jetta and arrived at our newly purchased first-home just before dawn.
Our relatives could not understand why we'd leave the support of our extended family system; our friends thought we were crazy for picking up and moving to a town for what they perceived as "no good reason."
For us–making a conscious decision to improve the quality of our life experience was the best reason that could ever exist, but we understand that this was hard for those who love us.
It was exhilarating to watch western Massachusetts turn into the back roads of rural New York. We made our pilgrimage, through field and farm, to make our new home in ten square miles of vibrant culture and community.
And things worked. Stone installed stonework for a local nursery and with the rental income we had what we needed. Our living space was small, but with just one toddler and a tiny baby we didn't need much space. We didn't know many people so we spend our free time taking long walks and having casual afternoon coffee on our front veranda.
It was heaven. We had arrived.
*************************************
Almost four years later we're just back home to Ithaca after spending six weeks in suburbs of Massachussetts. We buried my grandmother, played at the seashore, spent time at camp and settled in so the kids could get to know their extended family.
As we trekked back to Ithaca, satisfied and sun-kissed by summer, on a road now well worn, I realized something had changed. We arrive back to many friends, a full plate of commitments and a house that is much too small for a bouncing family of three active and loud children and two home-based businesses.
The excitement has worn off in this present moment. The newness is gone.
When we first arrived we were actively dreaming up our intended lifestyle. We were a young family looking at a blank canvas. Now we are deep into the everyday living of home and business management, family living and homeschooling.
It feels life appropriate. It would be exhausting to live in a constant state of wide-eyed new-ness and life is meant to move and shift so that we experience a full range of emotions and experiences. This change makes perfect sense in the rational mind can also feel uncomfortable as we shift and settle.
It's like a marriage. When the honeymoon is over you realize the most important thing is that you respect each other and are committed to making it work– even when things aren't shiny and new anymore. Your relationship evolves and it takes active participation to stay in a healthy, thriving space.
There are still glorious Ithaca moments: concerts on the lake, amazing friends around every corner and sunlit gorges where we swim and hike. But the sparkle has settled and we're readjusting ourselves. We're not new anymore and we've certainly grown. It feels like it's time to adjust our lifestyle to match our growth.
It's been a journey. And, just like promised, the road to Ithaca has been long and full of adventure.