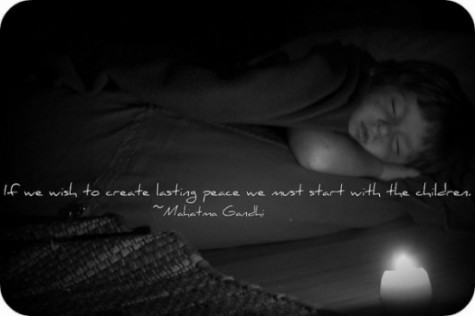 I offer this hope for peace in remembrance of 9/11. May we never loose our hope for a more peaceful world and may our children know how to create peace in their world. Originally posted in August 2009.
"If we are to create lasting peace we must start with the children." ~Mahatma Gandhi
In my heart, I know this is true.
Remembering this helps me to wake up in those little moments and savor the bliss that is love– to notice the way their hair smells when I offer a quick kiss as I lean over to tie a shoelace or to wipe up a spilled glass of juice. I know they will remember these moments when they are older.
Perhaps, they will close their eyes when they hear a certain song and remember how their mama danced and sang in the kitchen (to the old radio that used to belong to their great-grandfather) and the way she scooped them up to spin them around and around, and the memory will fade into whorls of colors and smells and leave them with a feeling that permeates through time.
I hope the feeling they remember is that of peace, security and deep comfort.
I hope they have these memories to lean on in times of challenges and crossroads.
I hope they might find comfort, inspiration and even insight from the foundation of a peaceful childhood; that they will be able to enjoy peace in their homes and in their communities, so that they may expect and contribute to peace in their country and on their planet.
A mother's hope for peace begins within herself, moves through her children and ripples outwards to the world.