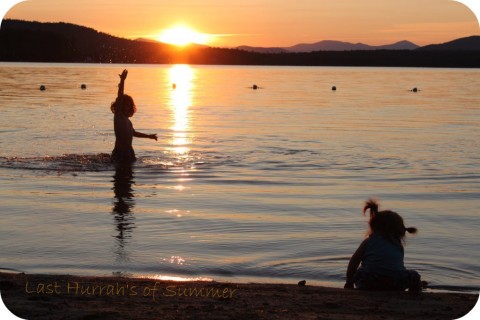 We have no plans of slowing down summer, but the signs are everywhere. We've begun to close windows in the evening and I even thought about putting on socks early one morning. Officially, fall does not begin until the Equinox in late September, making these next few weeks the perfect time to soak it all in.
Here's some link love for all you wonderful folks who grace me with your presence.
These three pictures remind me that the crazy mess I'm cleaning up all day is actually the amazing creative of childhood.
I'll say it until I'm blue in the face: women taking to the blogosphere is nothing short of revolutionary. BlogHer '11 made this women angry, but not for the reasons you might think.
Do you text at the playground? Or judge the moms who do?
A how-to-be happy post from Zen Habits that's a great companion piece to my popular post "If You're Not Happy Here, You Won't Be Happy There"
Loved reading about how Our Bodies Ourselves helped educate this father.
Do we need to develop our emotional intelligence?
Do you remember friendship bracelets? I *LOVED* making these in grammar school and lucky for me here's a tutorial so I don't have to hurt my head trying to remember the how-to details. (Now if I could only find a spare moment to actually make one.)
Have an awesome Labor Day Weekend everyone!