This past winter was transforming for our family. J. Stone transitioned out of work mode took on the full load of stay-at-home parenting duties. He was the number one caregiver, he cleaned and yes, he has even started cooking more. I in exchange had the opportunity to leave the house almost every day to explore my own interests and work on my projects. After five continuous years of being the main care provider for my children it was needed. The first time I left the house I think I just sat at the library, put my feet up, and thought. It's amazing to actually be able to put one thought in front of another without interruption. A.m.a.z.i.n.g.
The switch of roles has done wonders for our relationship. We were able to gain a broader perspective of walking in our significant other's shoes and see if the grass really is greener on the other side. We learned to appreciate the roles our partner plays and find gratitude for the way things are-well, for half of the year at least! Stone now understands how much energy caring for young children can zap (along with your patience!) and I am in complete awe of how he financially provides for us financially while staying true to himself.
My biggest challenge was to let go and let him parent. Little did I know what a control freak I was, parading under the costume of an easy-going, laid back sister. Stone somehow manages to dress the kids in clothes I didn't know existed and I do my best to keep my lips buttoned. After all, the kids are safe and happy; who cares if their clothes are two sizes too small and have no socks on under their shoes. (Or in this case have two entirely different shoes with two different socks. This is not a joke)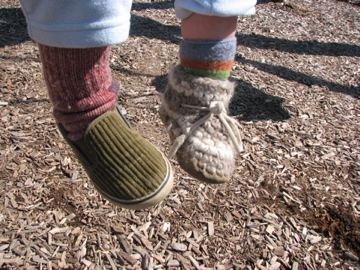 Letting go has also allowed him to really find his way. He now effortlessly puts our one year old to sleep and somehow has magically figured out where the cleaning rags are kept. I've realized that he is way more likely to participate if I let him do it his way, even if his way is-er-a little unorthodox.