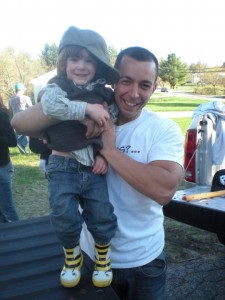 In the midst of all the craziness excitement that is my life these past few months we also travelled to the suburbs of Boston to say goodbye to my brother.
He left last Tuesday to volunteer with the Peace Corps in Panama. I'm really close with both my brothers and very supportive of their journeys. When he first told me he was looking into the Peace Corps after hearing about a good friend's experience I encouraged him. He was 25 and had finished his degree in communications and gone on for a two year degree in horticulture and become a certified Arborist. He'd tried out a few different jobs and moved to a different part of the country (and returned), but had not found anything that settled his spirit.
I've never been one for settling into a regular old lifestyle as a default to finding your life passion so I kept encouraging him to think outside the box and to follow any leads or ideas that excited him. He'd been self-learning Spanish for quite a few years and began to take short trips to Spanish speaking countries to learn more and he found he liked travel. He applied for the Peace Corps and took the process step by step, not making a final decision until they offered him a position a few short weeks before leaving.
When he made that decision I took a step back in awe of his courage. I'm not sure I could make that commitment and I was impressed he was willing. I saw him with a new perspective. I could see a shimmer of adult maturity and a caught glimpse of him as a more settled down and settled into himself as a man. Although he is in his mid-twenties it's hard for me not to think of him eternally as my little brother.
The weekend before last we trekked home a few days before Lobby Day to say goodbye and it hit me all at once. I'd been acting as his cheerleader while my parents and grandparents sorted out their emotions around it and now that I was counting down the moments I had with him (and having a million other things on my plate) the reality hit me hard.
For the first time I realized that he will not meet this new baby until they are well over two years old. Koala will be almost five and Solshine will be almost eight years old. Just thinking of Sol being eight blows my mind and placing the reality of not seeing my brother until then opens a maze of emotions, realities and perspectives I had not previously acknowledged or experienced.
We had a great weekend. My brother and Stone played a lot of family band and music making. We went to two different parties in honor of his departure and we had some great downtime with the whole family just relaxing at my mom's house.
On the way home from the trip Stone and the kids dropped me off in Albany for Lobby Day in a dark, underground garage at the state Capital (another story for another day) and I found myself really torn. I had so much in front of me that day and was still processing having said goodbye to someone I really love.
I know it's not a forever goodbye. (Though I acknowledge any goodbye is the potential for a final goodbye.) I know this is the right decision for him at this point in time. I know he'll learn so much. It's a learning experience for us too. Someone to write letters to as a family. A reason to look at maps and discover different places. Exotic stories to be told in years to come. I know. I know.
But I miss him already.
Does anyone have Peace Corps experience? Have family members who have gone? I'd love to hear your stories.