This is the last guest post of the Babymoon series. I can hardly believe the babe is six weeks old! Our last guest contributer is Karen Angstadt. Our paths first crossed on Twitter and we realized we had similar empowering attitudes towards our birth work. She is fabulous! Enjoy.
If you are interested in sharing your family's wisdom with the …infinitely learning… community see guest post guidelines here.
*************************
My girls attended a traditional preschool part of this past year, even though I knew in my heart I wanted to homeschool. I've know I wanted to homeschool since my oldest was a baby. But I work 3 days a week from home and could not figure out how it would be possible to teach the children and continue working, and was especially concerned with the cost of a sitter during working hours.
It turned out the preschool experience was the best thing that's happened for us in a while. Not because it was great, or even because it was awful. The lessons I learned were more complex than that. I realized so many lessons over this short period of time.
The biggest change happened when my oldest daughter (5) stopped "reading" her books alone, saying she didn't know how to read. Although she is not yet reading words, until this point she always enjoyed quiet time with a picture book, talking about the pages, telling the story from memory. Now she had "learned" that she didn't know enough to read alone.
In other lessons, mostly from her peers, she learned to tease her little sister; to insist on being first in every line, and for every turn; to whine for candy (which we seldom buy); to ask for toys we don't need because they are advertised on TV and every child present (for the brief TV time before class started) sang out in unison "I want that!" (Ugh!)
My littlest girl (now 3) simply missed me and told me so. She asked to stay home with me and I wanted her home as well.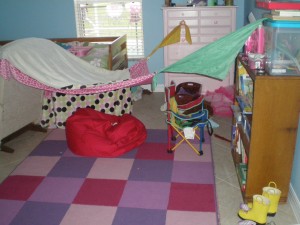 It was easier than I thought it would be to bring them home. I now work less during the day and more at night. I found a wonderful sitter- who is a product of homeschooling and shares many of our values as a family. We trade wellness tips and mediation techniques. She is a big proponent of peaceful communication. It couldn't be a better fit.
And so here we are, back to our moderate unschooling. We have tons of books that Jordan happily "reads" once again. The children work together to communicate their needs with one another and with the adults in their lives. Just yesterday a stranger in the grocery store commented on my little one's vocabulary and enunciation and I know it's all the reading and talking we do all day long.
My girls ask the best questions. We have discussions on spirituality; God; what happens when our bodies die; volcanoes; the oil spill and praying for the water and animals; growing food; eating well; exercise; fairness and why equal isn't always equitable. The kids rarely ask to watch TV if we are engaged in activities together. (A request for TV usually means I've not been paying enough attention and they are bored.)
And although I purchased a curriculum to work with in the coming year, I'm reminding myself that learning is not a timetable, nor based on any deadline. We'll be doing a lot of field trips and science projects. We've already begun our caterpillar/butterfly project and a small container garden. And J asks every day to play with the lessons in her math book, usually tackling 4 pages or so before she wants to go on to something else. (Ah, freedom!)
I'm not particularly concerned with following the curriculum timeline. Looking at everything J has already completed, my concern is that we may run out of new books before Winter Solstice, though I had planned to use this curriculum over 2 years! It's great to have an outline that is not set in stone. I love flexibility for learning.
For us, traditional schooling is limited to the times when my kids wanted to play school now. I'm not in a hurry for them to learn certain lessons within a certain timeframe and I'm really not too bothered with how my girls may "measure up" to other kids of similar age in terms of reading or math.
The lessons that are most important to me today are about learning to think independently while still being interdependent within a family. At our house, homeschooling is about learning and growing closer together.
And for me, I'm happier than ever.
Karen Angstadt is a Wise Woman, Mentor and mother of 2. With over 10 years experience teaching women to uncover, hear and honor their intuition through individual mentoring, in 2008, Karen began sharing her methods with pregnant women to guide them to their inner voice and empowered choices for birth.
Karen is the founder of Intentional Birth.com, host of A Labor of Love radio show on the VoiceAmerica network, author of the eBook To Thine Own Self Be True – a daily message for moms-to-be and serves women through individual mentoring, tele-seminars, and home study material.