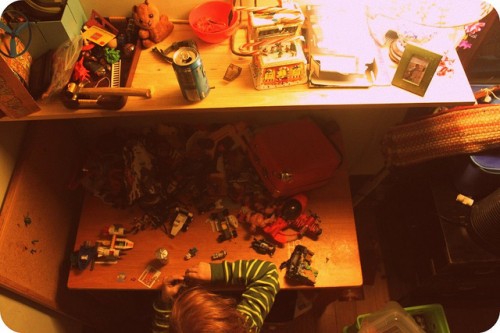 I like this photo, but I didn't want to post it.
I like it because it reflects a very real part of our everyday: messy and busy. If you look closely you'll find Christmas in the photo, but you'll also find Stone's old He-man figures from when he was a kid and half-full can of unflavored seltzer.
I didn't want to post it because it shows you how messy our life can be. It's not zen, stylish or remotely organized. Then you'll know that I don't keep a home that looks like a catalog.
I like to take pictures that show off the beauty of my home. It makes me feel good to catch all that I like about my house, home and family in one frame. It's also easier because just beyond that frame can be the mess that is life.
This table is where Solshine has spent the better part of the past three years. It's filled with trinkets: marbles, legos, playmobiles, treasure he finds when he's out and about. It's messy and he's busy.
I know there is an unintended danger that happens when we fill our lives with picture frames filled with only the "perfect" parts. It sets unrealistic expectations and leads to dissatisfaction with what we already have–even if what we have was enough before we saw pictures of something better.
I do it. I love to look at catalogs and pretty blogs and feel inspired and daydream about what I like and what I would do with this or that. At first it feels fun and then I start to look at my own stuff as not good enough. And another mom's homemade curtains become a testament of my failure.
I think this is a good metaphor for the holiday season. We hold many romantic ideas about the holidays and what they should be like and feel like that it becomes almost impossible to live up to them. But when we stop being enchanted by the idea or the pictures we begin to notice what we have right in front of us–the everyday life that, while not perfect, is perfectly ours. And there's really nothing else worth having.
Sure this holiday season is messy and busy, but at the same time it's one of my favorite times. Just like the picture.


This post is part of Treadways' December Photo Project. A photo every day to celebrate the festive month of December. My theme this year: Our Everyday Christmas
Oh, and today I'm over at Simple Homeschool talking about how our Christmas Bucket List is helping guide our learning this holiday season. Go on over and check it out.