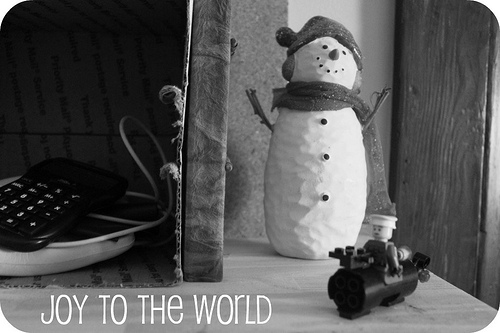 Joy to the world. The big world. And the little world that lives inside our tiny home. Where Lego adventurers boldly go where no little plastic (wo)man has gone before and a little girl clamors for an old school calculator and holds it up to her ear because she thinks it's a smart phone.
Joy to our home and our world because it is where we live and the quality of our life here affects how we spread our joy and peace (or discontent or anger) out there in the big, big world.
Joy to our little world where a day stretches out in front of us like a lifetime (and sometimes I wish the kids had buttons that I could push and they would instantly go to sleep. I would probably push those buttons around 5 pm every day).
And joy to the years that have slipped away. Because it was just a moment ago–I swear, a blink of an eye, and we didn't even know our children's names. We couldn't even imagine who they were and now we live inside a universe of family. And when I look at their newborn pictures I can hardly believe they were ever that little, but maybe more poignantly, that they never will be that little again.


This post is part of Treadways' December Photo Project. A photo every day to celebrate the festive month of December. My theme this year: Our Everyday Christmas